Help for Sumote
This gives small help if need to use the Roku Remote an android app designed by Jayachandran Kamaraj
This app controls a Roku streaming video player over WiFi using Roku's External Control Protocol. It is one of  the best (possibly the only working) free one on the market (currently ranked third and the first one being the official Roku App)
To get the app through the browser, here it is. https://play.google.com/store/apps/details?id=com.jc.jc_roku
Features:
Find and connect to your player in less than 10 seconds without having to manually enter its address – even works with players connected over wifi!
Roku ECP – way more reliable than the old Telnet protocol some other remote apps use
Full 12-button control including Back and Instant Replay
List and launch channels directly from your phone
Automatically jump to search screens using your phone's search button*
Enter text on your phone and send it to the player – never use the on-screen letter picker again!
*Most channels support this on most screens. Hulu is a notable exception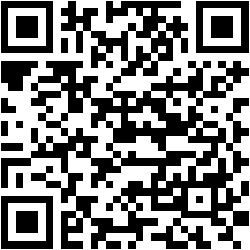 How to Use It:
You always open the remote by default. There are two ways to navigate. One is the top section that can take you to the channels or the launcher that can take you to the launch screen. The other way is to use the menu by pressing the menu button.
Settings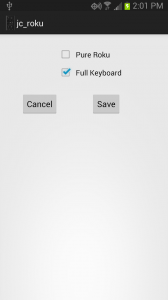 It has two options.
Pure Roku
Full Keyboard
If it is pure Roku, then it will identify only the Roku devices. Since it is using SSDP protocol to discover the devices in the network, and the roku uses 8060 port number, if the Pure Roku option is selected only the results for that port will be displayed. If it is not selected all the answers for the query will be shown.
Full Keyboard. If the option is selected then you can get the full keyboard functionality when you want to input text in the search screen in the roku. If not you get the keyboard in the remote screen (and for example it won't support keys like backspace).